Hurray to NO handling of cash when making food payment at the hawkers!
Uggli Muffins
127 Lor 1 Toa Payoh, #02-34
Singapore 310127
Opening hours:
Tuesday to Sunday
10:00AM - 2:00PM
(Closed on Mondays)
Contact: +65 9877 9020
Website: http://ugglimuffins.com/
E-mail: uggli@yahoo.com

The first time I had these muffins was during my internship at the Caldecott broadcast centre, my superiors often go out of the office building to have lunch and one day they brought back some muffins. My first impression of seeing it is "Umm, why to look so ugly?", after tasting the muffin I really can tell you not to judge a food by its appearance. Those ugly muffins taste heavenly and I had a couple more, no wonder it was called Uggli Muffins, they really live up to their name. 👍
Freshly baked muffins just out of oven, waiting time about 20 minute
So this day, to try out the new cashless payment method I went to purchase a box of muffins at BUY 10 GET 2 FREE for $12 to bring home for sharing. Boss is very welcoming and friendly to all his customers I swear.

The queue is also endless, don't say I never warn you first. Maybe you can grab lunch at the hawker while waiting for your muffins to be baked.
Gotten a mixed of 4 flavours: Golden Raisin, Oero, Walnut and 1 more I have forgotten.
So far only manage to eat 1 muffin because they are so delicious my family members finished them 😭
Due to the technology advancement, DBS Paylah! is now accepted at over 250 hawkers stall. Stalls owner also can save manpower and time to work on another scope such as packing and preparation of food while they lessen the load of handling cash, also it's more hygienic ok.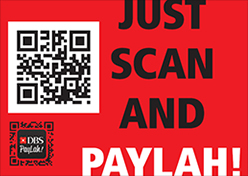 You can now enjoy your favourite hawker foods with a quicker way to pay when you scan QR Codes displayed at selected stalls. Just spot the PayLah! payment logo and ask to pay with PayLah! QR Code for a faster and seamless checkout.
Click here to view the list of participating PayLah! hawkers
.
It's simple to scan and pay,
watch the video below on how to use the PayLah! function:
Don't have PayLah!? Get $5 when you download and register NOW!
Promo/Gift Code: "

SERJY0873

"
Valid until 28 February 2018 only.